Beauty Salon Facial Steamers
Pure Facial Steamer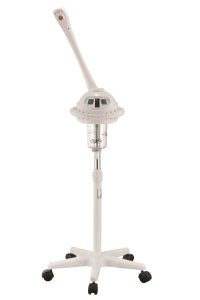 This ozone salon facial steamer is a functional yet simple design, it is equipped with a pivoting arm, the head can be rotated, this steamer includes a herbs container in the water deposit, it can be adjusted in height and as it is fitted with a stable base with wheels it can be easily be moved around. This salon steamer is a must piece of salon equipment for all beauty salons and beauty colleges and schools.
Product Code – PJS-A30
Cost: £129.00
FREE Delivery Mainland UK
Ultimate Luxury Facial Steamer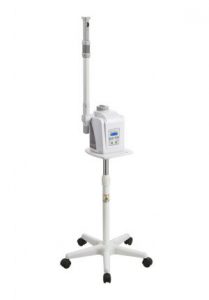 This upmarket ozone salon steamer with a modern edge and a functional design, is fitted with a pivoting steamer arm, a rotating and steerable head with an aromatic oil receptacle. It can also be adjusted in height and comes with a stable facial steamer base. Very easy to assemble can take between 10-15 minutes, once you have applied the water to the salon steamer in can take a few minutes to boil, depending on the warmth of the water you apply, the beauty steamer can hold up to 1.3 litres which is plenty, very easy to move around the salon, college etc as it has wheels fitted.
Product Code – PJS-300H
Cost: £199.00
FREE Delivery Mainland UK