Beauty Couches
Beauty Salon Couch – RAYONG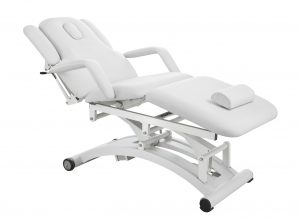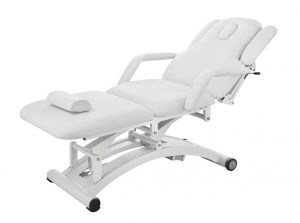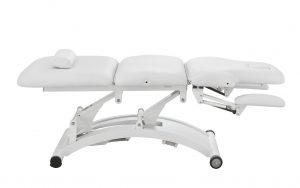 This performance bed better suited for Spa and Physiotherapy treatments, it is fitted with 3 motors that control the height, backrest and central module inclination. Complemented with a double armrest system: The fixed ones are adjustable by a gas lift and the lateral ones are removable, also a headrest with a breather is another plus for the bed, and comes with an extra postural cushion provided. The Frame of the base is made with good quality metal which allows the bed to hold more weight, attached at the bottom of the base are wheels which allows the bed to be moved around a lot easier. It is made with white PU upholstery of high quality that makes it much easier to clean. Product size: 197x74x56/88 cm
Costs – £849.00
Product Code – PJS-RAYONG
FREE Delivery Mainland UK
Beauty Salon Couch – STER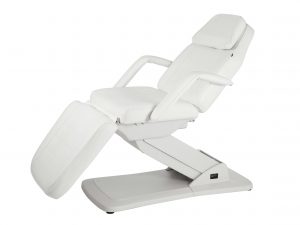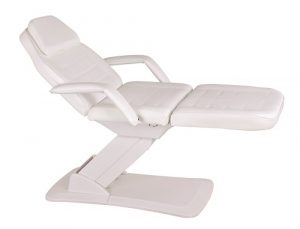 This modern functional 3 section electric bed of great stability due to it being made with a strong metal frame, it is fitted with 3 motors that control the height, backrest, and legrest inclination.
The armrests that are shown in the photo can be removed as well as the headrest cushion.
Made with a white PU upholstery of high quality that makes cleaning the bed that bit easier.
The couch has a breather hole under cushion.
Size without armrest: 185x62cm and Height ranges 58cm to 85cm Size with armrest: 185x84cm
Costs: £799
Product Code – PJS-STER
FREE Delivery Mainland UK
Beauty Couch – RISE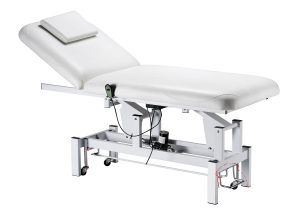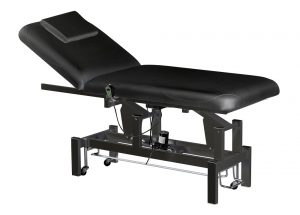 This modern two section electric height salon couch with adjustable manual back rest. The couch has a breather hole under the cushion. The frame is solid metal with a drop at the back of the bed that can lock the door wheels and unlock them if the bed needs to be moved around the room. This couch comes in white. Length 185cm x Width 72cm x Height 56-78cm
Costs: £495
Product Code – PJS-RISE
FREE Delivery Mainland UK
Beauty Couch – TEMPO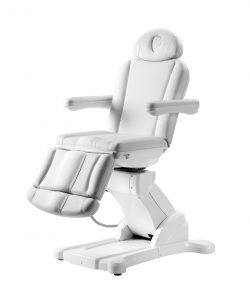 This modern upmarket electric chair with a very stable structure and high comfort.  Fitted with reclining armrests and adjustable headrest, controlled by 4 motors that allow a motorised adjustment of the legrest height movement. The chair also swivels and locks The material is made with a matt white PU upholstery of high quality that makes cleaning the chair that bit easier. Size without armrest: 186x57cm Size with armrest: 186x82cm
Costs: £1,145.00
Product Code – PJS-TEMPO
FREE Delivery Mainland UK